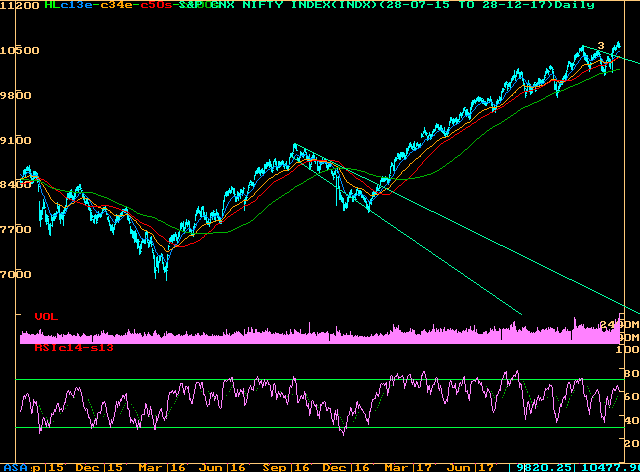 In Nifty daily chart the uptrend in Nifty broke down from the uptrend line (support line) of the ascending channel & touched 7997. A throwback can be observed at 8500 & which usually happens after a big down fall. It can also be observed that Nifty re-attempted 3 times to get back in the ascending channel. But it could not & the support line of the ascending channel has become the resistance area for Nifty. A new downtrend in Nifty opened at a fresh new low of 7940 as on 12th June 2015.
Daily Candle/Bar: The Friday bar of 12th June 2015 is a small bullish candle closing at 7982. The prior day-Thursday was a big bearish candle with a low of 7958. Nifty tried to break into the uptrend channel but could only manage 8500 on both times-22nd may 2015 & 1st June 2015. The tussle between the buying forces and selling forces has turned into advantage of bears for sure now.
Nifty Daily Structure: Technically in daily Nifty Chart an uptrend of higher peaks and higher troughs can be observed from 6625 early May 2015. The structure of higher tops & higher bottoms is a sign of confirmed bullish trend. Ascending structure of Nifty prices confirmed that the primary trend in Nifty daily time frame was bullish. But post Nifty high of 9118 the bullish trend has converted into bearish trend with ominous formation of higher lows & lower lows.
Share this post?